Note: A shipping charge of $6.50 will be added to your cart for each book ordered.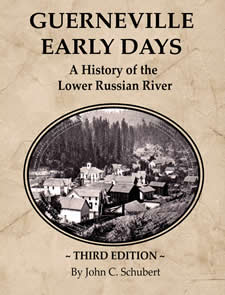 Guerneville Early Days
Book by John C. Schubert
$40.00
In the days before the boom of tourism, Guerneville was a pioneer town. The main enterprise consisting of lumber, men, women and children began their new lives on the western frontier in the shade of giant redwoods. The third edition of Guerneville Early Days is a compiled history spanning from 3000 B.C. to the early years of Guerneville's pioneer history. John C. Schubert has been Guerneville's historian since 1960. This book is the culmination of his life's work, extending to over 50 years of research, collecting and compiling data and writing.
Step back in time to when the trees were massive, the water was wild and western civilization was in its infancy.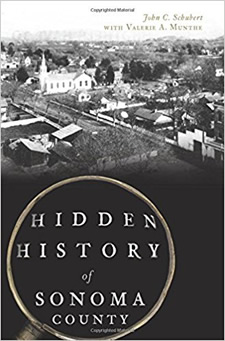 Hidden History of Sonoma County
Book by John C. Schubert with Valerie A. Munthe
$21.99
The enterprising spirit that led to Sonoma County's storied agricultural heritage defined its earliest denizens. Sail the seas with Captain Bodega y Quadra, whose name graces the coast and beyond, and wave farewell to the last train out of the redwoods. Discover the fate of Charles Henley, spirited from the county jail in 1876 by masked vigilantes. Learn about the rise and fall of Sonoma's tobacco growers and the historic opening of the Jenner Bridge as the automobile rose in popularity. John Schubert and Valerie Munthe reveal Sonoma County's enthralling history.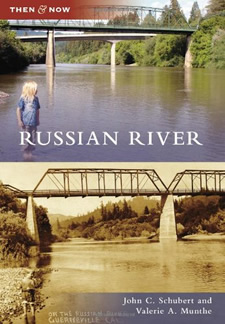 Russian River Then & Now
Book by John C. Schubert & Valerie A. Munthe
$21.99
The Russian River region has morphed from a lumber area, to a recreational paradise, to a retirement locale and a semi-bedroom community of Santa Rosa Valley, all the while sustaining itself as one of Northern California's premier vacation destinations. Each resort region town has its own personality dictated by its environment: forest, river, fields, and hills. A self-proclaimed "River Rat," Valerie A. Munthe has lived 20 years in Guerneville, where she and her husband, Jesse, raise their two children. John C. Schubert, who has lived on the Russian River for 55 years, is a former U.S. Marine, a retired deputy, and a local writer and historian of some note.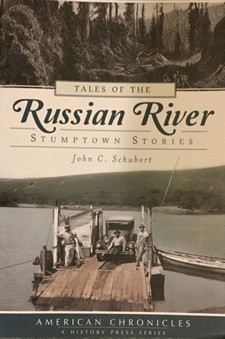 Tales of the Russian River - Stumptown Stories
Book by John C. Schubert
$19.99
The Russian River has drawn tourists to its colossal redwoods, picturesque seashore and idyllic resorts for more than a century. This collection of John C. Schubert's "Stumptown Stories" columns relates the history of this California river valley through in-depth research and firsthand stories. Ride the first train to chug across the Hacienda Bridge and wave farewell to the town's last train in 1935. Swing around in the many dance halls to the big bands of the 1930s, '40s and '50s.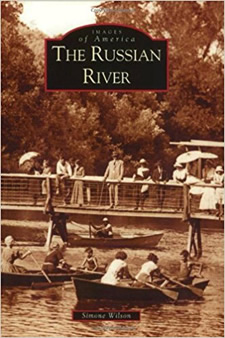 The Russian River
Book by Simone Wilson
$21.99
The Russian River begins in the hills of Mendocino County and meanders past Cloverdale and Healdsburg on its way to the sea. But when locals say "The Russian River" or even just "The River," they're talking about the region of redwoods and riverbanks in Sonoma County between Forestville and Jenner, celebrated since the late 19th century as a paradise for camping and fishing. Captured here in over 200 vintage photographs are the area's settlers, stores, festivals, resorts, and beaches-attractions that have drawn Bay Area tourists for over a century.
---
Check out now, or continue shopping
---